I'm linking up with October Follower's Fest today, so if you're coming from the linky, welcome! Maybe you want to know more about
me.
Leave me a comment if you follow (or leave a comment anyways! <3), so I can come and visit you back! You might also want to grab my free Halloween Card - you can find it
here
!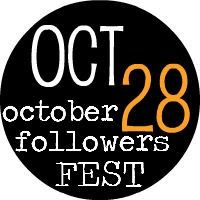 Colors
- The last time we stayed here in the UK was in March or April and the trees and pavement were vibrantly colored by all the blossoms that were coming out just that very week. The weather was so favourable and everything was starting to bloom - cherries, magnolia, rhododendron... it was a color fest! And now, half a year later, it is pretty much the same scene! Although there is occasional rain the air is still soft and warm for this time of the year and the leaves of the trees have turned the most glorious shades of yellow, red, orange and brown. When the sun shines through the clouds the rays of light make the raindrops on the leaves sparkle. It's just magnificent!
Museums
- Yesterday I had plenty of time adoring the scenery waiting in this line in front of the Natural History Museum. It's midterm and apparently all the Mum's thought it would be the perfect time to go and see the dinosaurs with their kids. After waiting in the rain for 50 mts they would come into the museum only to see that there is another endless line in front of the room where the dinosaurs are displayed... *Ugh!*
We left the crowds behind us though as Trev led me to his favourite part of the place, the Darwin center, which only shows boring dead things pickled in glasses - not one kid in there, yay! :o)
Afterwards we went on to the Science Museum to go and see the
blubber
- this is a device constructed with many tubes and valves where colored water flows through and it shows how money flows in our society. I didn't really get to study it but I read about it in
a book
and it was fascinating to see it in person. Oh, and the
first computer
- so cool! We also discovered
this fantastic clock
:
the time eating clock
We looked at more ancient clocks (we're both fascinated with clocks and clockworks it seems) and
heard the internet speak
. What an experience! I was deadly tired in the evening and all day I had to grit my teeth because
my legs were still so painful
and the fact that I had to walk mostly on my heels to avoid the leg pain then made my heels start to hurt, of course. But I'm so glad I pulled it through, I just love going to museums!
Food
- In the evening we met up with Francis, an old buddy of Trev's that
I had met last time
we were here. I also met Trev's older Brother Jeff for the first time. It was nice to finally get to know him in real life, even though I felt like I already knew him quite well, from all the things I'd heard about him. He only returned to the UK this spring after four years in New York. It's funny to see how Trev is very much like their mother, whilst everything about Jeff makes me think of their dad. :o)
After some more walking we settled into this great lebanese place for some mezze and bacclavah - deeeliciousss!!
Now tonight we're going out for family dinner so I gotta get ready.
Hope you're enjoying autumn wherever you are!