Current Projects&Features:
- Self Portrait Thursday
This is a personal project I started some time ago, inspired by a feature from
Cubist Literature
. Every Thursday I post a little self portrait that I jotted down during that week. It documents my mood and things that are important at that time, as well as outfits and hairstyles ;o) These illos are drawn with a stylo in one go - no sketching, no correcting, the first try counts!
Completed projects and old features:
- ***Monday Friend***
***Monday Friend*** is my way of sharing blog love. Every Monday I will introduce you to a new blogger friend. My Monday Friends give me a list of five things that are important to them. With this information I then create a little illustration of their world that I share with you, together with a little description of their blog and some pictures.
A great and fun way to find new and interesting blogs!
- Creating Success around the World
Creating Success around the world is a blog hop through crafty blogs all around the world. I am co-hosting this hop with three lovely ladies from all over the globe:
Australasia -
Jill @ Creating my way to Success
The Americas -
Suzy @ Suzy's Artsy Craftsy Sitcom
Asia -
Janelle @ Of Pinks and Fairytales
We each share an interview with a lovely crafter every Wednesday. You can hop from continent to continent to read the interviews and link up your own blog or crafty posts in the linky list.
- Ralph Waldo Emerson Pledge
RWE Pledge or #Trust30 is a project I participated in during June 2011. The pledge ran in honour of RWE's birthday and consisted of one email per day with a quote and a little exercise designed to make you think about yourself or your life or make you take action in achieving your dreams and getting to be more self reliant.
I used to do a roundup of the week's exercises on Sundays in June. It's July now, but I'm still posting on Sundays, showing you my most favourite exercises and trying to give you some food for thought for the next week.
- Project ReStyle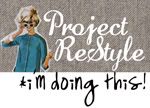 Project ReStyle is the lovechild of
Rachel
and
Elsie
. It's all about reusing old and unloved items into something new and fabulous. It doesn't matter if it's clothes, furniture or household items. If you wanna see more you can look at a lot of before and after pictures in the
flickr group
.
Since I often buy secondhand clothes you will mostly find clothes refashionings in this category.
- Watcha Wearin' Wednesday
WWW started as a feature on the blog that was inspired by a project on
Dear Fii
. Since that feature had already been discontinued I just put it on my blog as a weekly solo project. But I realised soon that every week I had either too many outfits I wanted to show or nothing great at all. That's why I changed Watcha Wearin' Wednesday into
Outfit Peeks
and moved it to my
facebook page
. This album is updated randomly and the pictures are NOT posted on the blog - you'll have to like my page if you want to keep up to date with them! ;o)
- Project 365
Giving away one item a day for a year... that was the goal I set myself in December 2010. I posted my seven weekly items every Wednesday for you to be inspired by and also gave quite a lot of things away to readers who would give them a loving new home.
I finished this project ahead of time and you can read the full story on the blog, of course.
- Grateful for...
A post about what you're grateful for this week every Friday, and a whole bunch of links to other people's gratefulness. Hosted by
Maxabella loves...
- My creative space
This feature started as a linky list on
kootoyoo
and now has it's own page because it has grown so big and is called
Our creative spaces
. Ton's of inspiring links to crafty people from all genres who show a little peek into their work of this week.