Hello and happy Monday!! I'm so excited about today's Friend because she is one of the artist girls out on the Webbs that I absolutely adore! Meet Krista from
Saturated Canary
. Krista makes illustrations of cute little girls that she sells in her
etsy shop
.
On her blog you can read about her family life, see her great outfits and more of her crafty side. Krista is also a big pro in keeping fit and her posts about working out are really inspiring.
Here are Krista's five things:
1. The Lord and my family. I've been married for 9+ years and have two children, a girl and a boy. My church and family mean the world to me. I am so thankful God gave me two beautiful, fun, healthy kids to enjoy and a great husband who makes the best dad. And, bonus (!), he's easy on the eyes;).
2. Keeping in shape. I feel like it is the most selfless thing I can do for my family-- working out keeps me feeling good and that makes me a better mom and wife. I love to run and play sports. We play tennis and golf...I love to lift weights. It just feels good to stay active and set myself up for a long, healthy future!
3. Going on dates!! Phil and I try to have a date night once a month. Just go out and eat, talk, laugh-- just the two of us. It sounds really cheesy, but we are best friends. We love to go to ball games, movies, and the bookstore. And we have occasionally dropped the kiddies off at my mom's and gone home to snuggle and watch movies for hours:). It's so nice to just talk and chill out together. I love him so much!
4. My artwork. Ever since I was little, I've loved to draw. I enjoy creating characters. Sometimes they are inspired by people I know. Sometimes by a person I meet. Other times, it is a song or a memory. I'm so thrilled that my love for art has rubbed off on my daughter, too! She sits for hours coloring and drawing. Being creative is so important to me, and I'm so happy to see that desire grow in her, too!
5. Future goals. I need to have things I'm striving for-- so setting goals and dreaming up new things to try is hugely important to me. I want to always be moving forward. And I hope that my kids grow up and remember this quality about me. And that they have a piece of it, too. Being a dreamer is a good thing!!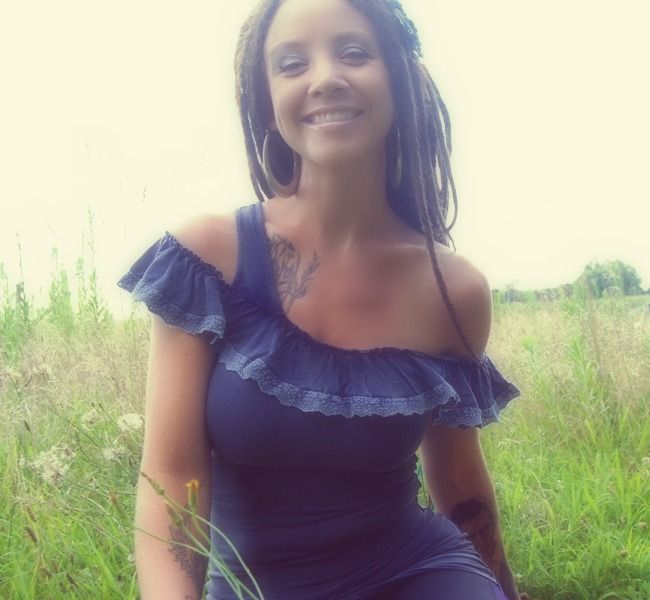 You might know this face from a
previous post
where I talked about how much I love Krista's dreadlocks. She is quite the extension queen and the next time I have some, I definitely wanna go for Rapunzel, too! ;o)
And of course, she is a big inspiration for me with her sweet little illustrations that she makes. She has so many ideas and styles for her girls, I am really amazed at how every time there is a new one - she looks just different and absolutely individual!
Thank you, Krista, for sharing your list with us!!
Have a nice Monday everyone, watch out, the weekend's zooming towards you! You might want to wear a helmet... ;o)
Check out my previous Monday Friends!
Do you wanna be a Monday Friend? Please contact me and I will be very happy to include you in a future post! Email me at
little_yaga (at) gmx.ch
Like ***Monday Friend***? Please support me by grabbing the button from my sidebar for your blog. If you drop me a line I'll link back to you!